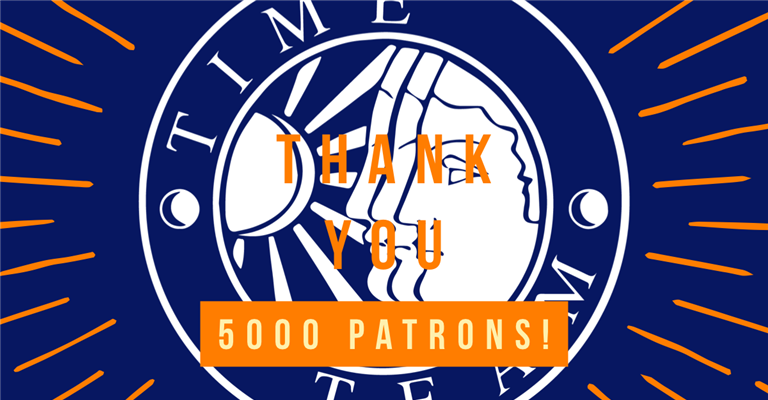 5,000 Patrons - another target smashed!
We're delighted to announce that Time Team has smashed its third successive Patreon target, reaching over 5,000 before the end of March! We're overwhelmed by the support of our fans worldwide and would like to thank each and every one for sharing our passion in archaeology and helping us to realise our vision of an exciting new chapter for Time Team. It is a truly international effort, with supporters signing up across the globe. We'll be announcing our next steps very soon, and there's a lot more great content to come on Patreon.
If you're undecided whether to join or not, you can try before you buy. For a complimentary taster of a recent behind-the-scenes chat with Dr Helen Geake, CLICK HERE.
What our Patrons say...
"Brilliant with new angles on old episodes! Thoroughly enjoy it!"
Ane, Netherlands
"Well, I've done it and became a Patron and that's something that I wouldn't have believed myself to do a few months ago. But the amount of viewing pleasure Time Team gave me in the past just made me do it."
Wim
"Just wanted to let you know how thoroughly I have been enjoying all the events and features available to Time Team Patreon members."
Elizabeth, Texas, USA
"Thank you for the insights of how you choose the sites and work to build the program."
Mark, Connecticut, USA
"Time Team in three words? Up your street."
Linda-Theresa, UK