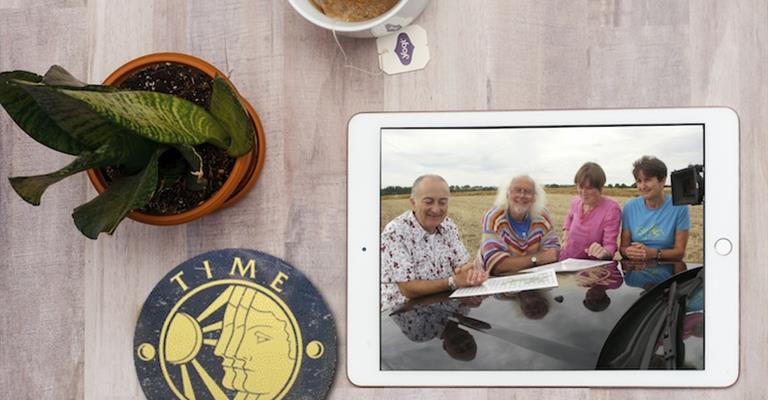 Teatime Session 7 is on the way!
Please join us for our seventh Time Team Teatime...
Sunday 10th May at 6pm (BST)
When we'll be watching:
UK fans can find the episode on Channel 4's on-demand service by clicking here.
Once again, this will be followed by a special after-show event at 7pm on Time Team's official Facebook page!
The exclusive behind-the-scenes action this week includes:
a new interview with lead archaeologist Francis Pryor

more unseen images

the next Dig Village 'Stuck at Home' masterclass
We'll be following up with another 'Q&A Tuesday' next week, so don't forget to post your questions on Facebook on Sunday evening.
We look forward to seeing you there...
Troubleshooting
When will be watching Time Team?
We'll be watching Time Team at 6pm BST (British Summer Time) on Sunday 10th May.

Which specific episode will we be watching?
Episode 9, Series 7: 'Flag Fen (Cambridgeshire).

Watching Time Team in the British Isles
For fans based in the UK and Ireland, the easiest way to watch the episode will be on Channel 4's online streaming service: All4. If you haven't already set up an account, it's very easy to do – simply use this link and follow the steps to register:

https://www.channel4.com

If you don't watch All4 regularly on your computer, you may need to update the version of Flashplayer in advance and restart your computer. If this is the case, your computer should prompt you to do this.

We're aware that some fans have had issues following the direct link to the programme. This may be caused by your existing viewing history on the All4 site. If the direct link doesn't work, please try heading for the Channel 4 home page at https://www.channel4.com and in the search box simply enter 'Time Team'. From the results that are shown, click on 'Time Team' (not the 'Digs' or 'Specials' links). From there, click the 'episodes' button, select 'Series 7' and find 'Episode 9'.

Watching Time Team across the world
Worldwide fans will need to check the streaming services available in your specific territories. A simple online search should bring up available options. US fans, for example, can use the following website to find relevant streaming services:

https://www.reelgood.com/show/time-team-1994

We hope you can join us, wherever you are in the world. We appreciate that the specific episode may not be available in every region. If not, why not enjoy an alternative episode then join us for the after-show event on Facebook.

Needless to say, whilst we're always delighted to see fans catching up on Time Team, we recommend enjoying the show with us through an official, authorised service. Beware that online bootlegs are often poorly edited or mislabeled, so you may find yourself watching an incomplete version of the programme – or the wrong episode entirely!