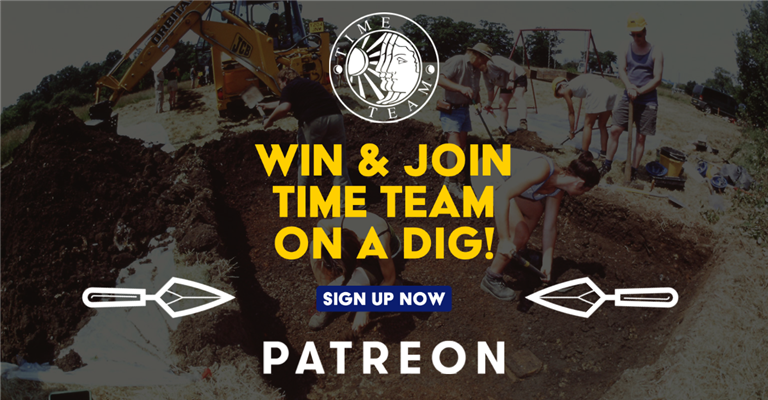 Time Team Dig Competition
*COMPETITON NOW CLOSED*
Ever dreamed of joining Time Team on a dig? Well now you could…
We are offering the opportunity for 2 lucky winners to be invited to one of Time Team's next digs, where you will be able to watch all the activity and meet some of the team first hand.
Everyone who is a member of Time Team on Patreon on January 31st 2021 will be automatically entered into a draw for this very exciting opportunity. You can also enter by submitting your entry via the competition entry form linked below. Anyone can join before this date but is required to be a member or have submitted the entry form by 23:59 GMT on 31st January.
Two winners will be selected and be given the exclusive invitation for them, and a plus-one, to join Time Team on site at one of their future digs. In addition, you'll get a free goodie bag of Official Time Team merchandise to take home with you!
Plus, by signing up you'll be supporting Time Team to reach our next Patreon goal and get access to all the exclusive benefits and behind-the-scenes content on Patreon too. What's not to get excited about!
TO ENTER just sign up on our Patreon Page or complete the competition entry form here.
Competition T&Cs
Entries eligible for the prize draw must be signed up to any of the tiers on Time Team's Patreon page by 23:59 GMT on 31st January. The Promoter accepts no responsibility for any person's application that is incomplete, illegible, corrupted or fail to complete registration on Patreon by the relevant closing date for any reason.

This competition is open to individuals worldwide aged 18 years or over.

Only online Patreon subscribers on online form submissions will be accepted.

Only one entry per person.

All valid and correctly completed entries received by the closing date will be entered into a prize draw which will take place on w/c 1st February 2021. The first two entries drawn at random will be the winners.

The prize for the winner is an invitation to join Time Team at one future dig (specific details will be confirmed with the individuals), plus a bundle of original Time Team Merchandise, chosen by the Promoter. The winner will be offered to visit one site (out of a choice of up to 3 locations).

Prizes are subject to availability and government rules in the specific regions. In the event of unforeseen circumstances, the Promoter reserves the right (a) to substitute for alternative prizes and (b) in exceptional circumstances to amend or foreclose the promotion without notice and no correspondence will be entered into.

The winners will be notified via email by 12th February 2021. The winner must claim their prize within 30 days of the Promoter sending notification. If the prize is unclaimed after this time, it will lapse, and the Promoter reserves the right to offer the unclaimed prize to a substitute winner selected in accordance with these rules.

Prize must be claimed within 12 months of official invitation being sent. The promoter reserves the right to extend this in extenuating circumstances at their own discretion.

Entries are open to applicants Worldwide; however, it is up to the participants to make their own travel arrangements. Time Team Digital Ltd is not liable for any travel or hospitality arrangements to, during or from the event. The promoter will aim to give the winner as much notice and details of the event as possible to assist with the planning of this.

In the event that the winner declines the invitation, their invitation will be offered to a substitute winner selected at random.

Winning participants will be required to comply with all site conditions and instructions from the official crew members, health and safety requirements and will attend the event at their own liability.

The Promoter will only the use the entrant's personal data for the purposes of the administration of this prize draw and any other purposes to which the entrant has consented.

The winners will be requested for their consent to take part in reasonable post event publicity and to the use of their names and photographs in such publicity.

Promoter may disqualify any entrant whose entry does not comply with these terms and conditions (in Promoter's sole opinion) or who, in Promoter's sole determination, has acted in a manner that is fraudulent, dishonest or unjust to other entrants including, without limitation, tampering with the operation of the prize draw, manipulating or rigging votes, hacking, deceiving, cheating or by harassing or threatening other entrants or a representative of Promoter.

The Promoter is Time Team Digital Ltd, www.timeteamdigital.com and the competition is not promoted or affiliated with or by Patreon.

By accepting the prize offered each entrant agrees to be bound by these terms and conditions.

These terms and conditions are governed in accordance with the laws of England and Wales.